2019 SUNNY KIDS TENNIS tournament
SUNNY TENNIS Junior Tournament  2019/05/25 
Time did fly, this was already the forth junior tennis game for SUNNY TENNIS. We were so lucky every time we held a tennis game, the sky was always clear, especially during this raining season. We greeted all our young players and their parents at Tianmu Sports Park tennis court. Everyone came well-prepared and energetic. 
Mini tennis is designed for players of young age. Using a shorter racket, bigger and lighter tennis ball, smaller tennis court, children can also enjoy playing tennis like adults.
This year, we made a small adjustment to the age of different groups of the participants. The game was still divided into 3 age groups like last year:
U6 group, 4-6 year-old: (Those who are born after May 25 2012 sign up for this group)
U8 group, 7-8 year-old: (Those who were born after May 25 2010 sign up for this group)
U10 group, 9-10 year-old: (Those who were born after May 25 2008 , sign up for this group)
Susan, a mom of the U8 group player said: "Thanks SUNNY TENNIS for holding such a wonderful game for all kids. My daughter became very positive and proactive everyday because she was looking forward to this game. She wanted to do well so she spent more time practicing with her coach. I'm so glad to see this change in her. She really enjoys playing tennis." We were truly happy to hear that from the parent. Happy kid, happy family!
Besides the keen competition between young players, there was fun tennis activity for all participants. Of course, SUNNY Lucky Draw and fun games are always our best tradition right next to the tennis court. We were happy to entertain everyone. Seeing the smile on kids face is just priceless. In the middle of the competition, there was the coach's performance game. All the participants were excited to see such a fast-paced and advanced game.
More and more young players join our game every year, that's why we moved to a bigger court to hold the match. Next year, we are sure to see even more young athletes on the court!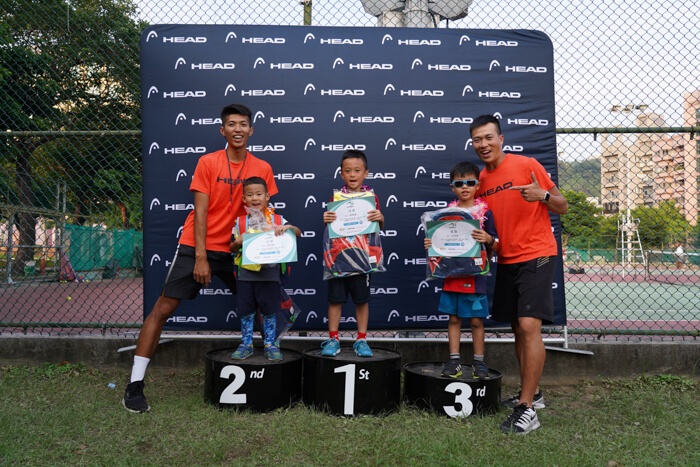 Congratulation to our winners!
After a long but happy day, everyone seemed a bit exhausted but content. This is the best result for us as coach and staff. This tennis game is not just a fierce competition, it's also the best way to make a breakthrough for all players. And it's a perfect occasion to create family bonds. We hope to promote tennis to children all over Taiwan, not every sport is designed and suitable for children. Children can start playing mini tennis at the age of 4. The more exercise children do, the taller, healthier and happier they become. Let's all play tennis and look forward to our junior tennis game next year!
Wanna play on the court like these cute and young players? Here's the rule for mini tennis by ITF.  (Please select the English CC subtitle)